Welcome to the New MACH Website!
Welcome to the new MACH website!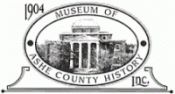 We have a lot of exciting things happening at the Museum of Ashe County History.
Please check out our new site and let us know what you think.
Come visit and see all the amazing exhibits we offer.
Best of all….it's FREE!
🙂