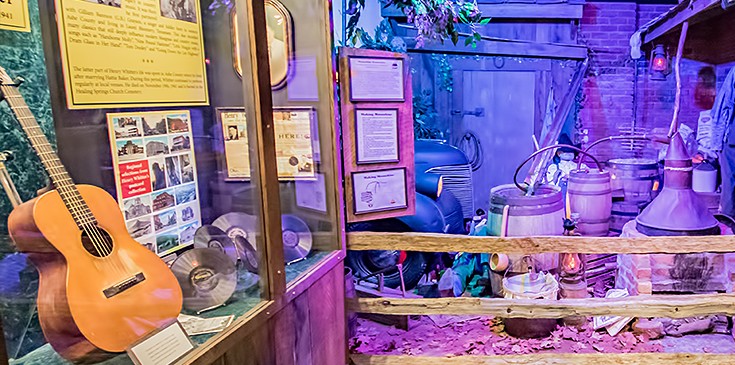 The Moonshine & Music exhibit opened April 30, 2016. This room features a life sized diorama of mid twentieth century moonshine production and a formal exhibit of three very special Appalachian musicians. Our dedicated volunteers prioritized historical authenticity while developing the exhibit.
The moonshine diorama features a copper pot style still that was confiscated by the Ashe County Sheriff's Department. The still is so accurate that if you filled the copper pot with "mash", set fire under it, and ran water into the "flake stand" you could actually make moonshine! If you look carefully, you will even see an authentic Raccoon Baculum to keep the moonshine flowing out of the end of the "worm."  Other details include an assistant working on a reclaimed '39 Chevrolet car, wooden meat hooks, a mouse in a trap, and hundreds of hand painted leaves.
The Music portion of the exhibit features three artists central to music history in Ashe County: Jack Reedy, E.C and Orna Ball, and Henry Whitter. Jack Reedy played in several well known bands in the 1920s, and one of the first recorded banjo players to use a early three-finger style. E.C. and Orna Ball were a well known gospel duo who were released several albums on the County and Rounder labels, they were also recorded repeatedly by the Library of Congress. Last, but certainly not least is Henry Whitter, one of the most historically significant musicians in country music. He is arguably the first country musician to ever be recorded. The Henry Whitter case features a number of his albums as well as his personal 1929 Martin Guitar.